Real Digital Marketing Testimonials
What we love about our business is that our success is only achievable when our customers succeed. Check out the internet marketing reviews below for real stories about how our services have improved our clients' businesses. And if you've worked with us before, feel free to leave a media agency review of your own!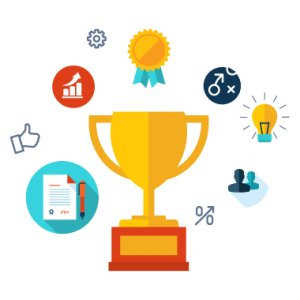 "When we were looking for an SEO company to work with, PPM stood out as the obvious choice. They know what they're doing, and they're incredibly easy to work with."
"When PPM told me they could help me convert online traffic to customers, I was skeptical. But the results have spoken for themselves! My Pay Per Click (PPC) campaign has worked wonders and I couldn't be happier!"
"We didn't know what to do about some negative press we'd received. PPM not only dealt with the problem, but greatly improved our online presence to boot!"
"Thanks to PPM, our website is now mobile compatible, and we've seen a significant improvement in our website traffic because of it."
"The advice and assistance we've received from PPM has been invaluable. Their consultation services have allowed us to address issues that we've been putting off for months. Thank you, PPM!"
"Pensé que el marketing en redes sociales era tan simple como publicar todos los días, y no tenía idea de por qué no estaba obteniendo resultados. PPM entró y ha mejorado mucho mis interacciones en las redes sociales en un corto período de tiempo".
"No sabíamos qué hacer con la prensa negativa que habíamos recibido. ¡PPM no solo solucionó el problema, sino que mejoró nuestra presencia en línea para arrancar! "
"Gracias a PPM, tenemos un hermoso logotipo y atractivos gráficos para nuestro sitio web, así como para nuestras otras campañas de marketing. Estas personas son verdaderos profesionales ".
"Era escéptico sobre el plan de PPM para utilizar el marketing de afiliación, pero hemos visto resultados increíbles de la campaña. Fue una inversión que se pagó rápidamente por sí misma, y algo más ".
"I didn't realize how badly I needed my website redesigned until I saw what PPM could do. They completely overhauled my site and made it user-friendly and attractive. My site makes me look like a professional now!"
"I knew having a website was important, but I didn't know where to start. PPM provided me with a beautiful, engaging website for a reasonable price."
"PPM completely upgraded our website content with more engaging, SEO-friendly copy. The results we've seen have been outstanding."
"PPM's web hosting services have been professional and reliable. We know we can count on them to minimize issues and maximize up time for our site."
"Cuando buscábamos una empresa de SEO con la que trabajamos, PPM se destacó como la opción obvia. Ellos saben lo que están haciendo, y son increíblemente fáciles de trabajar ".
"Cuando PPM me dijo que podían ayudarme a convertir el tráfico en línea a los clientes, era escéptico. ¡Pero los resultados han hablado por sí mismos! ¡Mi campaña Pay Per Click (PPC) ha hecho maravillas y no podría estar más feliz! "
"PPM nos ayudó a desarrollar una campaña efectiva de correo electrónico que realmente obtuvo resultados. Ahora estamos llegando a nuestros clientes objetivo de una manera eficiente y rentable ".
"Los servicios de alojamiento web de PPM han sido profesionales y confiables. Sabemos que podemos contar con ellos para minimizar los problemas y maximizar el tiempo de nuestro sitio ".
"El asesoramiento y la asistencia que hemos recibido de PPM han sido invaluables. Sus servicios de consulta nos han permitido abordar problemas que hemos pospuesto durante meses. Gracias, PPM! "
Your content goes here. Edit or remove this text inline or in the module Content settings. You can also style every aspect of this content in the module Design settings and even apply custom CSS to this text in the module Advanced settings.
"PPM helped us develop an effective email campaign that actually got results. We are now reaching our target customers in an efficient and profitable manner."
"Thanks to PPM, we have a beautiful logo and engaging graphics for our website, as well as for our other marketing campaigns. These folks are true professionals."
"I was skeptical about PPM's plan to use affiliate marketing, but we have seen incredible results from the campaign. It was an investment that quickly paid for itself, and then some."
"No me di cuenta de lo que necesito rediseñar mi sitio web hasta que vi lo que PPM podía hacer. Completaron por completo mi sitio y lo hicieron fácil de usar y atractivo. ¡Mi sitio me hace ver como un profesional ahora! "
"Sabía que tener un sitio web era importante, pero no sabía por dónde empezar. PPM me proporcionó un sitio web atractivo y atractivo a un precio razonable ".
"PPM actualizó completamente el contenido de nuestro sitio web con una copia más atractiva y amigable con el SEO. Los resultados que hemos visto han sido sobresalientes ".
"Gracias a PPM, nuestro sitio web ahora es compatible con dispositivos móviles, y hemos visto una mejora significativa en el tráfico de nuestro sitio web debido a eso".