Google Friendly: How Blogging Helps SEO
Blogging has a long history stretching back into the early 2000s. While these early blogs were primarily recreational, it was only a matter of time before businesses saw the potential in contributing to the blogosphere. 
Nearly 20 years later, blogs are a major marketing strategy where businesses regularly compete for the top spot on search engines. For those that succeed, high placement connects businesses with a wide audience, boosting their credibility while growing their revenue. 
In the article below, learn why having a blog is still one of the best ways to grow your business in the digital age. 
What is Content Marketing?
Blogs used for marketing purposes fall under an umbrella called content marketing. Content marketing strategies can be simple or elaborate, ranging from a blog that sets forth helpful industry information to a multi-channel structure with photo, video, and social media accounts
No matter what type of content strategy you choose, the overall goal is twofold: help get your site ranking on search engines and successfully connect consumers with your product or service. 
Unfortunately, having a blog isn't always enough. Often, you need to optimize your content so search engines can find your site— a process known as SEO. Through Search Engine Optimization, businesses can get the most out of their blogs by successfully reaching a wider audience of interested individuals.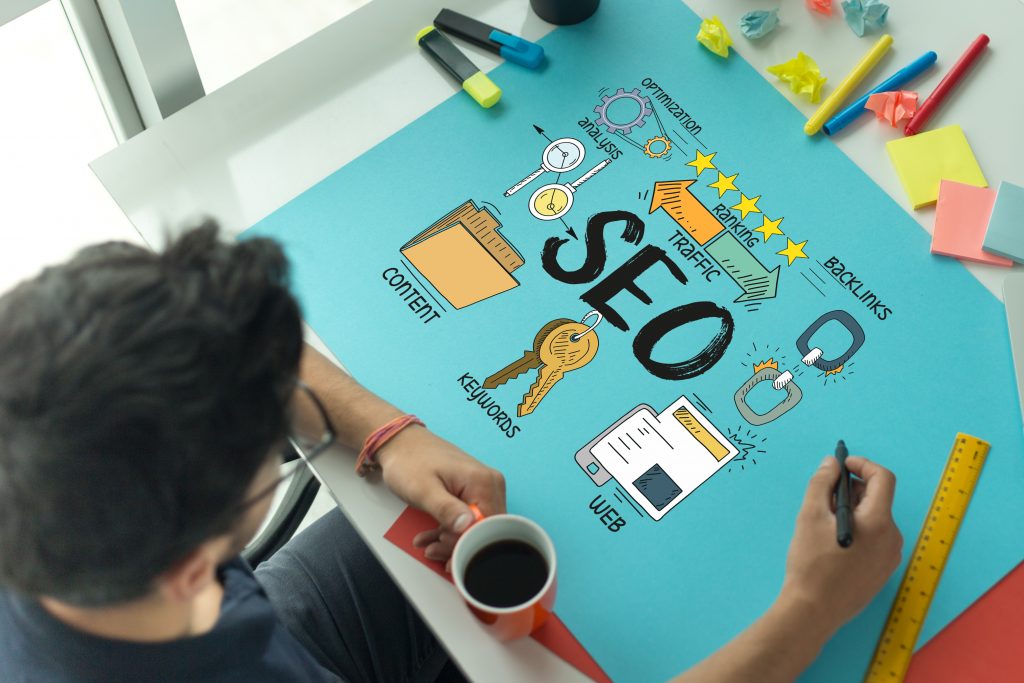 What is SEO? 
SEO is a combination of various factors that all contribute to whether search engines see your site as relevant to a particular search query. While best practices for SEO can become incredibly technical, there are two main factors to keep in mind where content marketing is concerned: crawling and keywords.
Search Engine Crawling
While many business owners know having a blog is important, they don't always understand how search engines such as Google or Bing categorize, rank, and file content from first to last. 
This is where "crawling" comes into play. 
Crawling is the backbone of how search engines bring content to the end user looking for information. Here, a search engine uses an algorithm to "crawl" thousands of sites, analyzing  page content, looking for matching keyworks, and determining whether your page matches the search query. 
Depending on how well your page matches the original search intent, the search engine will give each site a rank from most-relevant to least-relevant. Having good SEO means that when search engines crawl your site page, they put your website close to the top.
Blogging, Keywords, and Search Intent
When a consumer uses a search engine, they normally type in a few key terms to get their search started. These might be general terms such as "ankle pain" or  longer phrases such as "how to jump start a car."
Search engines use these keywords to determine the most useful search results. As blogs provide the best format to incorporate a variety of keywords, they become a powerful tool for helping your site rank near the top. 
In these cases, using a mix of short and long-tail keywords help search engines most effectively categorize your content. 
For example, if you are writing an article on training your puppy, you would want to use a variety of terms such as "puppy training," "new puppy," and "how to train your dog to sit." These terms all help search engines know exactly what your content is about and why it should be on the first page.
Blogs Reduce Your Bounce Rate 
Another pillar of SEO is keeping your bounce rate to a minimum. 
Bounce rate is the number of visitors that click on your site link but leave your page soon after. When search engines recognize that visitors don't stay on your page, they automatically assume it's because your site wasn't' helpful. This is detrimental to your SEO strategy as the higher your bounce rate, the lower your site ranks.  
Blogging lowers your bounce rate by keeping readers on your page for a longer period of time. Not only does reading a blog physically take time, but when a consumer likes your content, they are more likely to return to your site when a future question arises.
As Individuals spend longer on your site, search engines take note and boost your rank, knowing that your content is relevant and helpful.
Blogs Create Internal and Backlinks
Directly related to the above is a blog's unique ability to increase both internal links and backlinks to your site— both of which help search engines know your site is credible. 
Internal links are embedded into the article itself and lead to other pages on your site. These could be landing pages, other blogs, or even products that might be relevant to your audience. As your reader opens more links, search engines take note. The longer your reader remains on your site interacting with additional content, the better your SEO.
Backlinks work a little differently. The process of backlinking requires another site to send traffic in your direction. This can be done through social media channels, other websites, and even other blogs. 
Backlinks are incredibly important to your SEO strategy as it's the digital version of a word-of-mouth recommendation. When search engines see that many other sites are consistently pointing traffic in your direction, it's a signal that your site is trustworthy. 
Nothing Can Replace Quality Content 
While there are several strategies where businesses can use keywords, clever formatting, and linking to boost SEO, nothing replaces genuinely helpful content. 
Consumers take to the internet to find products, answers, and even information that helps them make challenging life decisions. It is not enough to simply jot down keywords— your content needs to meet the expectation and needs of your target audience. 
As such, always make sure you place yourself in the reader's shoes when crafting blog content. Imagine their main concerns, common questions, and even fears and reservations. Be sure to address each of these criteria while you write, being sure to research your topic thoroughly and commit to writing with honesty and integrity. 
Why Blogging is Important to Your Business
The above being said, it's important to take stock and see how SEO and blogging is important to business overall. The answer to this lies in organic traffic. 
Organic traffic refers to the visitors who come to your site organically. You did not have to pay for an ad and you did not have to send an email, rather, they simply found your site on the internet with little added effort. This is similar to how someone might walk into a new shop or restaurant off the street. 
When you have a blog that is search engine optimized, you gain the coveted high rank on search engines. This creates extra foot traffic, making it more likely for you to get new site visitors without the additional marketing costs. As these visitors are already searching to have a specific need met or question answered, they are warm leads that have a much higher likelihood in resulting in a sale, booked appointment, or download of your ebook. 
Ultimately, this increases your potential for earnings as a business owner by not only reaching a larger audience, but the right audience.
Quality Content On-Demand 
In this day and age having an effective content marketing strategy can help your business keep a competitive edge. Unfortunately, many business owners don't have the time or understanding to regularly create the content that will garner top performance. 
At Platinum Passport Marketing, we take businesses to their peak performance by providing clean, optimized, and fully custom content. With a team of experts dedicated to creating result-driven content, we take the strain out of boosting conversions and growing your audience. 
With the extra time on your hands, you can go back to doing what you do best: running your business.