Startup Weekend happened recently in Spokane, an event that brings together entrepreneurs, coaches and other experts to practice launching a new business idea and to network. Startup Weekend happens around the globe, as a grassroots movement, it's able to be recreated in city after city, so that it can happen anywhere. The weekend helps to empower ambitious people and develop specific skill sets essential to launching a new Startup. 2014 saw over 1800 different events in 120 cities around the world!
The recent Startup Weekend Spokane coincided with Global Startup Battle, which aims to create a larger, global community of entrepreneurs. The winning teams from many Startup Weekends will all compete on a global level, by video, with the aim of bringing the community together in the spirit of friendly competition.
Of course, one of the most important parts of Startup Weekend is the chance to network with so many passionate and talented entrepreneurs. At Startup Weekend Spokane, there was a fantastic mix of business minded people, including Platinum Passports Marketing's own Michael Aaron Taylor, who was part of Chip Overstreet team that won second place for the Spokane event with their startup company See 3 Bids. Website: www.see3bids.com.
Startup Weekend Spokane begins with a meet and greet, so participants can get to know each other socially before the business of creating businesses begins. Next up is the pitch; 60 seconds to sell you the idea to your fellow participants. Teams end up forming in a natural way, with people drawn to the best ideas and finding a group that complements their abilities.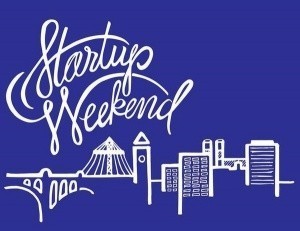 The weekend really gets into the swing of things as the teams get to work. Over the next 54 hours, they need to create a business from the ground up. Business models are created, coding for websites or apps is done, the design is decided on and market validation must occur. There isn't a lot of time for all that work to get done and many participants work diligently through the night.
Mentors and coaches are available throughout the weekend to help teams where it's needed. Mentors are volunteers from the local business community, who lend their time and valuable skills to assist the teams in developing their startups. This experience is invaluable – not only do participants get the chance to get incredible advice by people who have already proven themselves in the business world, but the contacts made here can become future collaborators and mentors when the weekend is done.
Finally, the startups are presented to the panel of judges. Here is where all the hard work and stress pays off – the top 3 teams are selected and receive prizes to help launch their business idea.
Startup Weekend Spokane was a wild, intense ride; claiming second place was the icing on the top of a fantastic weekend of networking, learning and creating. Do you have what it takes to join the Platinum Passports Marketing team at Startup Weekend next year?