The business world is an online world these days, and you simply can't build a successful company without having an online presence. But as true as this may be, the fact remains that the most stunning website in the world isn't going to make your business successful. There's a right time to hire a website designer, and there's a wrong time—and when you're still creating a business plan, it is definitely the wrong time.
So, here's why you shouldn't hire a website design expert when you're first starting out, as well as a few alternative options for building your site. Plus, we'll talk about when is the right time to hire a website designer for your business.
Your Website Is Not Your Business
Yes, you do need to have a functioning website, and yes, it is an important part of your business. But when you're first starting out, your focus should be on building a proper business plan, not on building a website. The bulk of your time and your funding should be spent on more important matters, like producing products, creating a valuable service, finding customers, and marketing your business; and while a solid website is a part of those efforts, it shouldn't eat up all of your startup funding. Odds are, you don't have thousands of dollars to sink into web design services. And a beautifully designed website doesn't serve much purpose alongside a failing business model.
Investing in a professionally designed website before you've built a somewhat-stable business plan is "putting the cart before the horse" in the absolute worst ways possible. As a new business owner, you should be spending less time worrying about how a website looks, and more time worrying about whether or not your business model is viable.
Additionally, there are many other facets of your website that carry a lot more importance to your growing business. While a pretty design might be nice to have, it's not going to help your Google rankings. So if you want to invest in your website upfront, put those funds into something that is going to carry more weight and actually drive traffic to your website, like creating high-quality content or boosting your on-site SEO.
When it comes to your website, functionality should be your main concern—you can worry about how the website looks when you have more funding to invest in web design services. Don't take this as permission to have an ugly website either. Because appearances do matter; they just don't matter enough for it to be your main focus at this point. Rather, take a "good enough" approach with your website design. As long as it looks decent and is user-friendly, then it is good enough for a startup like yours.
Building a Website on a Budget
Now, maybe you're one of those business owners who think that building a website is a complex matter that requires specialization. While that may have been true 15 years ago, when websites were largely built with HTML, it is no longer the case. In fact, the vast majority of business owners have the capability to build their own websites, so long as they have the right tools and a little bit of training.
There are a lot of website builders out there that can help you to build good-looking websites for minimal investment. Sometimes referred to as WYSIWYG (what you see is what you get) builders or drag-and-drop builders, these programs allow you to drag and drop website elements into a layout, and rearrange those elements into a design of your choosing. Templates are also available to make the process even easier; just select a layout you like, and edit the content to your liking. Some of the most common drag-and-drop website builders out there are:
Shopify
Wix
Squarespace
Weebly
Google sites
While drag-and-drop builders certainly have their limitations, and take a little time to learn how to use, they provide an excellent product for their price points, and can often grow with your business. You can upgrade your subscription, add new features, and customize your website more as you find the need and the funds. These website builders are a great solution for businesses that are just starting out.
If you're looking for a drag-and-drop website builder that is affordable, but perhaps offers a bit more guidance, PPM has a great tool you can use. Our self-builder website package starts at just $10 a month and includes our cloud hosting service. And, if you want to cut down on the time it takes to learn to use the drag-and-drop builder, we even offer training and support packages. You can get 20 minutes of assistance for just $25 a month, and an hour of expert help for just $50 a month. With these packages, you can get a high-end, professional-looking website on a tight budget.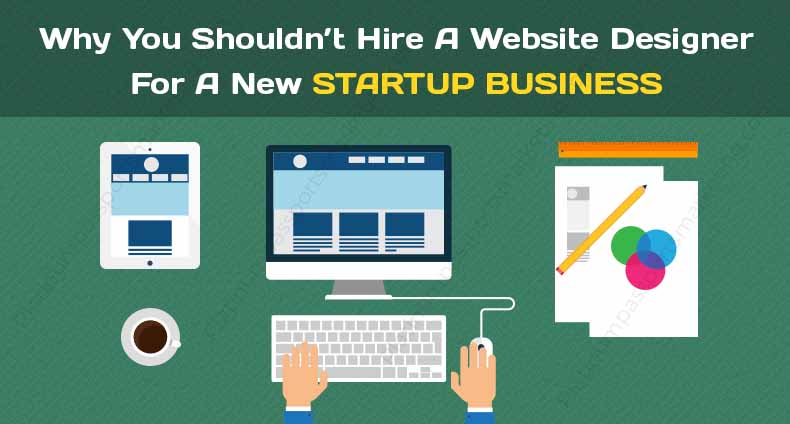 When to Hire a Website Designer?
Don't start thinking that there is no role for a professional website designer in your business. There definitely is—you just need to hire website design services at the right time. So when is the right time? That is largely going to be up to you, but it should be when you feel like your business has a stable foundation. This might be once you have a strong business plan and a little bit of investment funding, or it might be after you've made a few sales. Until you feel somewhat secure with your business model, stick to the basics, and just make sure your website is "good enough" to show your customers that you're a professional. You can easily do this with our self-builder website packages, as mentioned above.
As a rule of thumb, when you're making a profit of more than $1,000, you can reinvest at least 15-20% into growing your business–and that includes building up a more robust website. As your profits grow, you can reinvest more into your website, and upgrade to a professional designer without worrying about draining your business's funds.
Of course, if you want the added security before you hire a website designer you can choose to wait until your profits are higher. Just make sure that you're not holding back your profits, and are reinvesting a proper amount into your business and your website. This is the best way to ensure ongoing growth. But $1,000 of profit for a few months should be your minimum goal before you start looking at web development services.
Following these suggestions, your business is more stable, and you can afford to invest a few thousand dollars into more robust website development and a more elaborate web design. With a secure foundation for your business, you can hire a website designer, and upgrade your website's look and functionality, confident that it's a smart investment for your company.
While it may be tempting to give your website the platinum package treatment from day one, it may be smarter to hold off on the in-depth website development and design services for now. Instead, stick with building your website yourself using one of our many startup website design packages. You can get the high-end, professional website you desire without draining your investment funding. And, when you're ready for the more robust website development and professional website design, we can provide that as well.