Anyone who has ever used, built, designed, or developed an ecommerce website knows that it can differ significantly from a traditional website. Rather than focusing on conveying information, an ecommerce site is focused on enabling easy online purchases and displaying products in a way that entices those purchases. With this goal in mind, there are a few key aspects of an ecommerce site that you should keep in mind during ecommerce website development and design.
Responsive Design
Mobile devices are quickly surpassing desktops when it comes to accessing the internet. In fact, statistics show that more than 25% of ecommerce sales are done on a mobile device. What does this mean for your ecommerce website? Unless you want to miss out on one-fourth of your potential sales, it means you need your website optimized for mobile users from day one.
A responsive website design is one that adjusts to display appropriately on any device and any screen size. If you've ever had to pinch and zoom, or scroll side to side when viewing a website on your phone, then that was not a website optimized for mobile viewing. And, odds are, you didn't spend long on that site.
For an ecommerce website, optimized performance on mobile devices refers to more than just a pleasurable aesthetic on a smaller screen. It also means that your product images need to be fully navigable on any device. Your store needs to be simply designed. Your checkout process needs to function smoothly and easily. Every aspect of the purchasing experience needs to be fully functional for customers, regardless of the device they're using.
Guest Checkouts
One of the most important aspects of ecommerce site development is the checkout experience. Obviously, your ecommerce website isn't going to do what it's meant to do if the checkout experience drives away customers. To simplify the checkout process, most sites offer users the option of creating user accounts. This allows them to save payment and shipping information for future purchases, as well as possibly saving their viewing history to easily find products that they're interested in later.
This is all well and good. But during your ecommerce website development, make sure that you're creating the option for those without user accounts to make purchases. Not everybody who wants to buy a product will want to create an account, and requiring them to do so can often drive away potential customers. So, ensure that your ecommerce website developer includes a guest checkout option for your website.
Of course, user accounts offer your business some benefits too—tracking consumer behavior, collecting contact information for follow-up communication, etc. So, you may want to design the purchasing experience in such a way that encourages customers to create an account without making it a requirement for purchase. For example, you might allow them to make a purchase first, then show them how to get started creating a user account using the information they've already entered.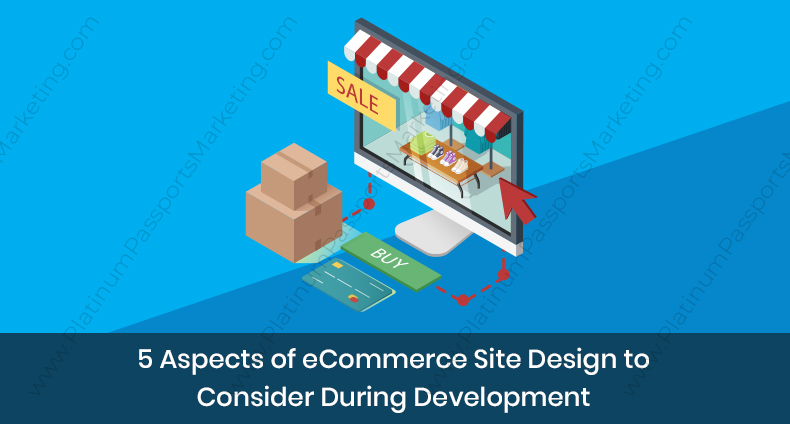 Site Search
According to research, 30% of people who visit ecommerce sites use the search function to find the products they're looking for. So, while the search bar may be falling out of style with our types of websites, it is still one of the essential aspects of an ecommerce site.
In addition to providing a search box for your users to type in, consider including faceted search as part of your ecommerce website development. This allows users to narrow their search parameters by price, size, department, or any other product characteristic. This gives users more control over their results, and helps them to find exactly what they're looking for.
Of course, this means you'll have to ensure all of your site's products are properly organized and have all the right labels associated with them. So, make sure to include this step as a part of building your online store.
Security
While security is important for any kind of website, it is widely considered to be one of the key aspects of an ecommerce site. Many users will scrutinize your website's security policies before making a purchase, and if they have any doubts, they'll find the products they need somewhere else. Online consumers want to know that they are using secure ecommerce sites for every purchase they make, and they won't enter payment information into a site that doesn't seem trustworthy.
How do you ensure your site is secure? First, truly secure ecommerce sites all employ SSL to encrypt any data that needs protection—especially payment information and customers' personal information. It is also a good idea to integrate well-known and widely trusted payment systems, such as PayPal, as an option for checkout. These kinds of systems offer extra security for your customers, if for any reason they are unsure about entering credit card numbers and other information directly into your website.
Optimized Performance
The last of the 5 aspects of an ecommerce site you should consider is optimizing your site for performance and speed. Online shoppers have high expectations when it comes to website speed, so you want your ecommerce website optimized in every way possible to ensure that every page downloads quickly and reliably. In fact, according to studies, you want every page of your site to load in 3 seconds or less; roughly 40% of users will leave your website if it takes longer than that.
There are many ways to optimize your site for speed. Here are a few ideas on how to get started:
Combine your site's JavaScript or CSS resource files into single files. This allows users to download only one file or style sheet, instead of multiple.
Compress images to the smallest possible size while still providing a quality image.
Use caching to cut down on the amount of time your site spends sending data between servers.
Of course, these are just a few of the basics that you should be able to handle yourself. If your ecommerce site is still lagging, you'll want to hire a professional to get your ecommerce website optimized for peak performance.
While many things go into building an ecommerce website, these 5 aspects of an ecommerce site are all essential to building a quality online store. No matter the size or niche of your business, these factors are essential to a successful site for your company. At Platinum Passports Marketing, we are experts in ecommerce website development, and can build you a professional site that integrates all of the above aspects of development and provides superior performance. Contact us today to speak to an ecommerce website developer and learn more about how we can help your business grow.