Effective brand building is a key aspect of building your business. Not only is it a pivotal part of gaining exposure and increasing customer awareness of your brand, but it also provides your business with a clear identity and purpose. Brand building has become increasingly important with the growth of social media platforms, where consumers want to see a more personal side to a business.
While many people view building a personal or business brand as a simple task, it actually takes a great deal of time and resources. It is about far more than just projecting your "real self" to the world. Here, we'll define brand building, then provide you with 5 proven brand-building strategies from our branding experts.
How Do We Define Brand Building?
Just as there is no one way to define a business brand, there is no single way to define brand building either. Branding businesses can involve everything from communicating and exposing your brand, to interacting with the customers that the exposure brings you. It encompasses everything your consumers know, feel, and experience with your business. Whether you're building a personal or business brand, your brand-building strategies should be focused on creating value for your customers.
Now that we have defined brand building, let's examine some brand-building strategies to attract customers, as well as to create a clearer personal or business brand.
1. Define Your Brand
First, you'll want to clearly define your brand—both for yourself, and for the general public. Ultimately, this is the point where you determine what your brand stands for. Start by creating a checklist of your business's strengths. Then, create a list of your brand's values—the things your business stands for, and the things that matter to you as a company.
This is one of the most important brand-building strategies, as it provides your business with a moral foundation. Consumers are more likely to engage with a brand that contributes to the overall well-being of their customers.
2. Make Your Brand Stand Out
A strong business brand is one that stands out in a crowded market. But that's about far more than flashy colors and pretty business logos. What can your business offer to your consumers that your competitors can't? This doesn't have to be a unique product or service. It can be an exceptional customer experience, or the knowledge that a percentage of their purchase with you goes to a local charity. Find something that can set you apart from your competitors in order to better define the brand for your business.
Once you've established your unique value proposition, use it towards your effective brand building. Help consumers to see and appreciate the greater value that your business offers over competing businesses in the market. Make it a central part of your brand's messaging, and—better yet—connect it in some way to your brand's values.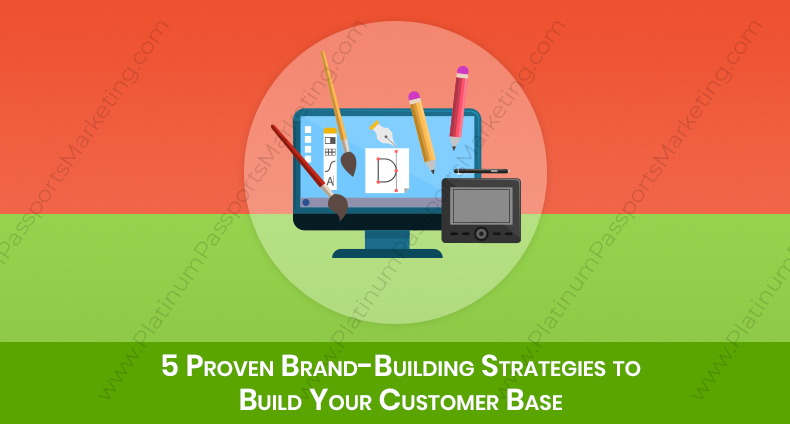 3. Continuing to Build and Expose Your Brand
It's important to note that effective brand building is not a one-time thing. It is not something you put effort into when first creating your company, and then move on with "more important" details. Brand-building strategies and efforts should continue throughout the life of your business.
The most important thing with your ongoing brand-building efforts lies in consistency. Continue to reinforce your values as you find new ways to increase business exposure. Combine other marketing channels with your brand-building strategies to attract customers; blogs, social media platforms, and other outlets are great ways to create a unique voice for your personal or business brand.
In this day and age, branding businesses is an ongoing process that must happen across countless channels. Thanks to the internet, you have to ensure that every mention of your business is consistent with the way you define the brand, and that all platforms used for brand building strategies attract customers using the same unique value proposition you've already established. Consistency will help to create a pattern that customers will always associate with your brand name.
4. Make Your Brand Personal
More than simply creating a clear brand, your brand-building strategies should also help you to build an identity for your business. Whether it's a personal or business brand, you want your customers to be able to identify with it and connect with it on a personal level. Your brand should be about far more than just the products and services you offer; brand building connects those products and services to a lifestyle or a goal that your consumers can connect with.
One effective brand-building strategy is to allow your customers to be co-creators of your brand's values. Let them share the things they care about, and apply those things to the way you define the brand. Having shared values is an extremely effective way to connect with your customers and earn their loyalty for a lifetime.
5. Review Your Brand
Again, brand-building strategies are not merely something to be concerned about at the beginning of your business. Your brand is not a static thing. Brands go through many stages throughout their lifetimes. Different events, changes in the market, and other shifts in circumstance can shape a brand. It is up to you to determine whether those things will shape your brand for better or for worse.
So, it is essential that you continually review your brand's image. Is your business brand outdated? Have cultural values shifted, and should your brand values shift as well? You'll also want to review certain metrics related to your brand, such as levels of brand awareness, how frequently people engage with the brand, and more. Reviewing these things on a regular basis can help you adjust your brand-building strategies while remaining true to your personal or business brand.
Effective brand building can do far more than help you create a consistent color theme for your business. It can create a strong foundation for your business that allows consumers to engage with your brand. It provides your business with a clear direction, purpose, and values. At PPM, our experts can help you to build this firm foundation for your business by developing a clear and strong brand that reflects your company's values and purpose. Contact the branding experts at our brand design agency to learn more about how these brand-building strategies can help you build a stronger business.