Running a business always comes with expenses. And perhaps one of the most vital expenses to your business's success is effective advertising. The IRS recognizes the importance of advertising for a business's growth, and so they allow business owners to take an advertising tax deduction for any of their advertising expenses.
But what kinds of services qualify for small business tax deductions? Here are a few business tax deduction categories that fall under the advertising sector, all of which are provided by Platinum Passports Marketing.
Website Creation and Ongoing Development
Website creation is one of our primary services, as it is an essential marketing tool for businesses in today's technology-based world. The IRS recognizes the absolute necessity of a website for a business to succeed, and so the expenses associated with launching a new site are often considered business tax write-offs. That can include:
Creation of a new website or webpage
Cost of a website designer
Cost of ongoing web development
Cost of a premade website template
Hosting expenses, including domain fee
Premium service expenses (e.g., add-ons and plug-ins for the site)
Maintenance costs
Even if you didn't launch a new website in 2017, the expenses associated with hosting and maintaining your site can still be included on your business expenses list. If you have a blog that you pay someone to maintain, or that you pay freelancers to write for, this may also qualify as an advertising tax deduction. Be sure you're tracking all of the expenses associated with your website's creation and upkeep, as well as keeping detailed records and receipts.
Newsletter Campaigns
A newsletter—whether printed or electronic—can be a great way to stay connected with your customer base and keep your business at the forefront of your consumers' minds. At PPM, we can provide the content, newsletter design, acquisition of distribution lists, and assistance with newsletter distribution to run a successful newsletter campaign. And all of these services are qualifying small business tax deductions.
Other Digital Advertising Campaigns
There are a variety of marketing campaign services that we offer at Platinum Passports Marketing, and many of them are business tax write-offs. Just as with traditional marketing expenses, digital marketing campaigns are recognized as an essential expense for modern businesses, and so the IRS allows business owners to include them on their business expenses list. Such expenses may include:
Google AdWords or pay-per-click (PPC) campaigns
Retargetting ads
Facebook ad campaigns
Twitter ad campaigns
Display banner ad campaigns
Cost of hiring a marketing agency for any of the above services
Again, be sure you're keeping detailed records of all expenses associated with these business tax deduction categories, and provide them to your CPA for assistance in determining what expenses actually qualify for the advertising tax deduction for your business. The small business tax deductions outlined above do not apply to all businesses, so it is always best to seek the advice of a qualified CPA when filing your business tax return.
Search Engine Optimization (SEO)
SEO is a cornerstone in online advertising for modern businesses, and Platinum Passports Marketing is proud to offer exceptional SEO services from highly qualify experts. While you may be able to research SEO on your own and get a general idea of how it works, running a truly effective SEO campaign takes time and expertise, so it is always better to hire an expert.
Even the IRS recognizes the importance of investing in professional SEO services, so they allow these expenses to be claimed as business tax write-offs. Of all the business tax deduction categories, this is arguably the most important to invest in, as an effective SEO campaign can have an enormous impact on your business's growth—not to mention all of the costs can be included on your business expenses list.
Planning for Next Year
If you worked with PPM in 2017, and we provided you with any of the above services, make sure you ask your CPA about taking an advertising tax deduction on this year's return. But just as importantly, ask about planning for your 2018 tax return as well. Often, the best way to save on your taxes is to start tax planning well in advance of tax season. This allows you to make wise choices regarding your business expenses list for the current tax year, and allows you to keep detailed records and receipts of your business tax deduction categories.
With proper documentation and planning, you can save a significant amount of money on your business expenses and taxes. So work with a CPA and determine if 2018 is the year that you should invest in additional marketing materials for your business. And if you are planning to invest in your business's website or other marketing needs this year, reach out to us at Platinum Passports Marketing for expert marketing services.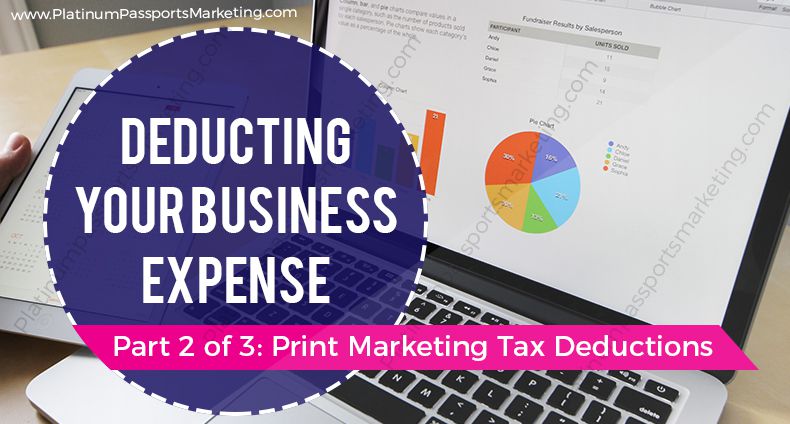 Here; Deducting Your Business Expenses Print Marketing Tax Deductions